Our Facilities
Pro Shop, Grille and Banquet Facilities for Any Event.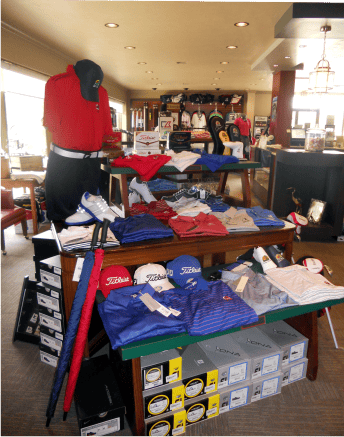 Pro Shop/Locker Rooms
Meet our pros, buy the right clubs and improve your game!
The Pro Shop is operated by Head Golf Professional, Michael Stone.  A range of services are available including bag storage, club demos and repairs, and regripping. Private lessons are taught by our pros, being an important aspect of keeping on top of your game. Call today to book either a half-hour or hour lesson.
The Pro Shop features logo merchandise, clubs, bags and balls from the top manufacturers in golf: Callaway, Taylor Made, Ping, Titleist and more. Our selection of golf apparel includes stylish items for men and women: windbreakers, sweaters, shirts, shoes, socks and everything in-between. They can coordinate merchandise items with any company's logo and assist with outing gifts and prizes.
A computerized handicap system through the WPGA is on-line for Lone Pine and other course scores. Additionally, a tournament management system is available for outings.
Newly renovated Men's and Women's locker rooms have full length lockers, showers, dressing room and lounging areas. The men's lounge also includes a card room with TV. Shoe cleaning, spike replacement and other attendant services are also available.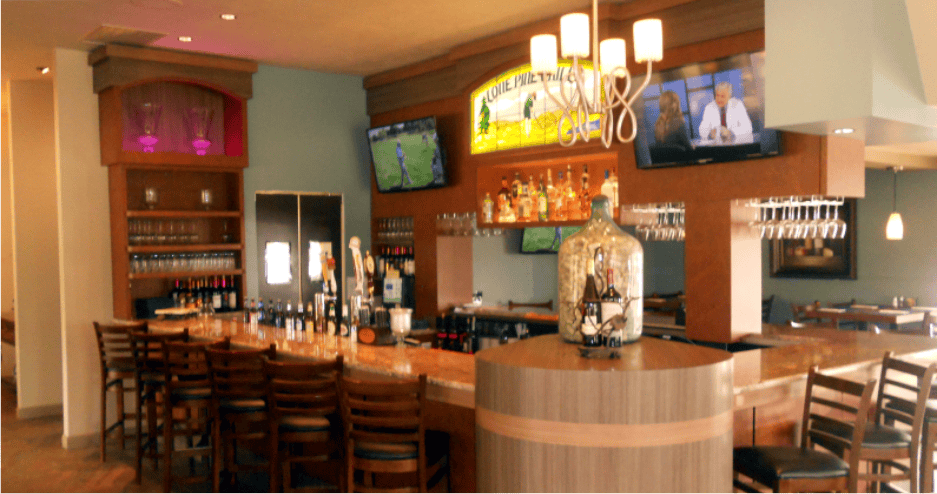 Lone Pine Grille
The Grille cuisine boasts a full menu of lunch and dinner offerings; friendly and courteous service; an extensive wine list; and a fully stocked bar.
Stop in before, during or after a round of golf for a quick snack, sandwich and libation. The Grille is open year-round.
Summer hours: Tuesday – Saturday, 11 a.m. to close; Sunday, 11 a.m. to 5:00 p.m. 
During the Winter, the Grille is open from Wednesday thru Friday 11 a.m. to 8 p.m. and on Saturday open for dinners from 5 to 8 p.m.  For parties over 6, please call for reservations.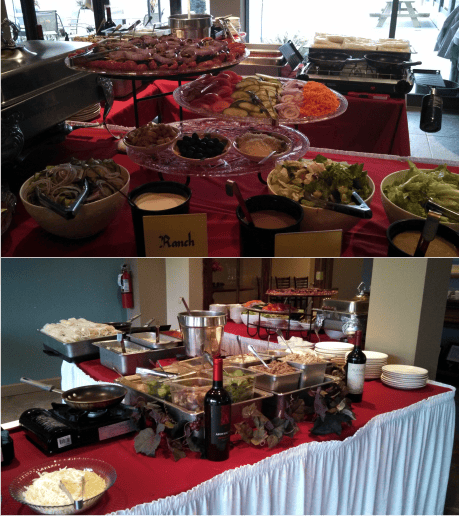 Golf Outings, Business/Private Functions
Dedicated to excellence in food quality, preparation, presentation and imaginative decor, we cater functions both large and small whether you're planning a buffet, seated dinner, cocktail party, fund-raiser or other special event. Our team of chefs, planners and servers can offer innovative cuisine tailored for your palate, ideal for the season and perfect for the chosen theme of your event at any time throughout the year.
Lone Pine Country Club is the perfect venue for your corporate, organization or charity golf outing; social event; bridal or baby shower; rehearsal dinner; reunion; birthday; and graduation. The Club's ballroom can accommodate seating for up to 200 people. We also have a smaller Wing Room that can accommodate 70 people.  Scenic backdrops of rolling hills and a manicured private country club for photos or an outside ceremony will make your special day one full of memories.
Call or e-mail for details on our special Appetizer and Banquet Menus.
Contact Assistant Manager (Banquet Coordinator), Garrett Hypes for business and private functions by calling 724-222-4700 – ext. 204  or email [email protected].
For golf outings, contact Michael Stone by calling 724-222-4844 or e-mail at [email protected]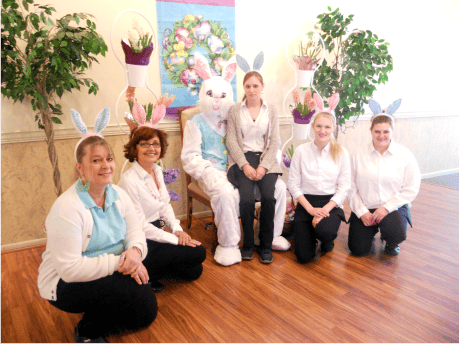 Social Events
Lone Pine hosts numerous social events throughout the year for members and their guests.
The club hosts special buffets and dinners on holidays and special times of the year. They include Easter, Mother's Day, Father's Day, Holiday Party and others.
There are also special Hit 'n Giggle, Stag and Wednesday Night events consisting of golf, buffets, dinners and even live bands, music and dancing.
We encourage everyone to participate and meet with their fellow members at these events in a casual and relaxing family atmosphere. As always, non-golfing members are welcome to join us. It's a great opportunity to entertain family, friends and business associates.